Do you enjoy challenging your mind with interesting questions? If yes, then this article is all about Interesting Gk Questions July 2023 that will test your intelligence, entertain you, and enrich your understanding of the world around us. From History and Geography to Science and Literature, we have a wide variety of questions to keep you busy.
GK Questions In English
Today we bring you this GK Quiz July 2023 with important questions for (RRB, NTPC, SSC, UPSC, CETET, UPTET, SSC GD, Bank) exams.
As everyone knows that what is the most asked question about July 2023 Current Affairs, we are providing you all with a practice set of 20 questions.
20+ Important GK Questions Online Test July 2023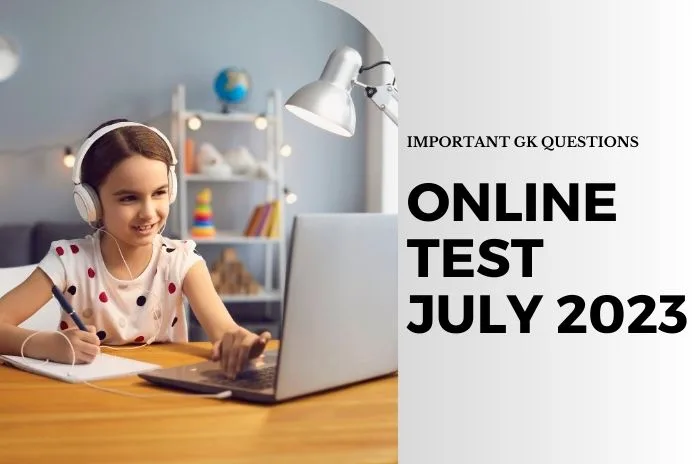 Important Gk Questions July 2023
1. Which country hosts SAFF (South Asian Football Federation) Championship in 2023?
India

2. In which country are 'Peacock softshell turtles' or 'Nilssonia Formosa' found?
Myanmar
3. Which state or UT of India is implementing the 'Anna Bhagya scheme'?
Karnataka
4. Which institution approved the '6G Vision Framework'?
ITU (International Telecommunication Union)
5. Who & when released India's 6G Vision "Bharat 6G Vision"?
Prime Minister Narendra Modi released India's 6G Vision "Bharat 6G Vision" document on March 23, 2023.
6. Which is the world's second-largest rainforest after the Amazon?
Congo
7. Which state/UT introduced the country's first 'Police Drone Unit'?
Tamil Nadu
8. Which city hosted the 'Startup20 Shikhar Summit'?
India
9. Which Union Ministry launched the 'eSARAS mobile App'?
Ministry of Rural Development
10. In which nuclear power plant of India core catcher has been installed recently?
Kudankulam Nuclear Power Project
11. Which Indian city is set to host the 'Festival of Libraries 2023'?
New Delhi
12. Who is the first Indian Prime Minister to visit the UAE after late Prime Minister Indira Gandhi?
Prime Minister, Narendra Modi
13. When was the UN's International Chess Day Observed in the world?
20th July 2023
14. Which Act is proposed to be amended by the Forest (Conservation) Amendment Bill, 2023?
Forest Conservation Act 1980
15. Which country won the World Archery Youth Championships 2023?
South Korea
16. With which country has India signed to develop an agreement on new-generation military equipment recently?
France
17. In which state/UT did PM Modi inaugurate the Integrated Terminal of Veer Savarkar International Airport?
Andaman & Nicobar Islands
18. Who is the head of the RBI's working group on the internationalization of the rupee?
Radha Shyam Ratho
19. When was Chandrayaan-3: India's third moon mission launched?
14th July 2023
20. Where was the "AI for Good global summit" held?
Geneva
21. Where is the first IIT Global Campus located?
Tanzania
22. Which technology company has launched the 'Threads' app?
Meta
23. Which African country has proposed 'National Health Insurance Fund Regulations (NHIF), 2023'?
Kenya
24. Who is the law & justice minister of India?
Arjun Ram Meghwal
25. Which state/ UT launched the 'Mo Jungle Jami Yojana'?
Odisha

---
FAQ
Where can I find more GK questions to challenge myself?
There are many online platforms and books for general knowledge & quiz.
Can GK questions help in academic pursuits?
Yes, GK questions help in academic pursuits.
Which type of quiz is best?
Multiple-choice is the most effective way to present quiz questions.
What is the biggest quiz?
The biggest quiz was achieved by Pratigya Samaj Sewa Kalyan Samiti on 18 June 2017 in Madhya Pradesh, India.
Who made the first quiz?
Richard Daly, the manager of a Dublin theatre.
Why quizzes are good?
Quizzes are good because they promote active learning and memory retention.
Is General Knowledge only useful for quizzes and exams?
No, it has real-life applications, such as engaging in conversation, making informed decisions, and better understanding the world.
What is a quiz competition?
A quiz competition is a contest where participants answer questions to test their knowledge on various topics.
Read More: Class 8 Geography Chapter 2 MCQ
Conclusion
I hope all of you have liked all these important questions of the GK Questions July 2023 and all of you must have easily remembered all these questions are very important, if you have liked this online test, then definitely share it with all your friends in your study WhatsApp group so that you can help all the students and thank you friends too.