Welcome to this post to know about Liberty University which prepares students to lead with integrity and make a difference in their communities. It remains a trailblazer in higher education, equipping the next generation of leaders to excel in their chosen fields while staying true to their Christian values. It provides a transformative education rooted in faith, academic excellence, and a commitment to service.
Where is Liberty University?
Liberty University is located in Lynchburg, Virginia, United States. It is a private institution that was founded in 1971. Its campus spreads over 7,000 acres in the foothills of the beautiful Blue Ridge Mountains. The city of Lynchburg provides a picturesque setting for students to pursue their education, offering a blend of natural beauty, historical landmarks, and a vibrant community atmosphere.
Liberty University offers nearly 400 online programs, a variety of scholarships, and grants based on academic merit, leadership, and faith, ranging up to full tuition.
How Many Degrees Does Liberty University Offer?
Liberty University offers many degree programs in various fields of study such as business, education, engineering, healthcare, humanities, sciences, technology, and the arts. It provides a comprehensive academic environment for intellectual growth, critical thinking, and practical skills development.
This university offers more than 300 undergraduate and graduate degrees residentially which help students succeed both in their studies and in their career goals.
Undergraduate Degree Programs
Associate Degrees
Bachelor's Degrees
Minors
Certificates
Graduate Degree Programs
Master's Degrees
Doctorate Degrees
Postgraduate Degrees
Certificates
Online Degree Programs
Online Degrees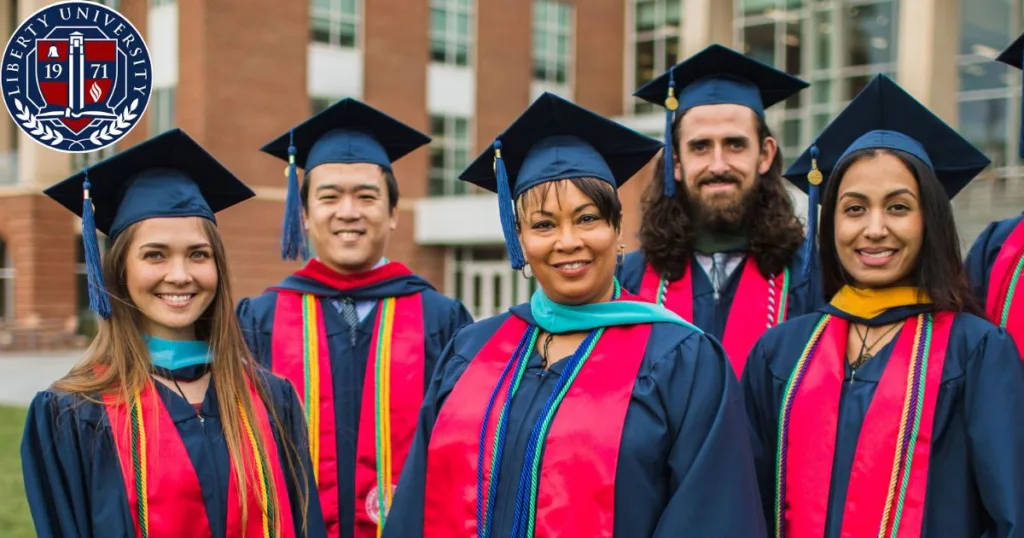 What are the Admissions Requirements for Liberty University?
To get admission to Liberty University, students must meet certain requirements. These requirements are the following:
1. Students have to submit an application form through Liberty University's online portal including personal information, educational background, and any additional materials required for specific programs.
2. The regular admissions application deadline for Liberty is rolling.
3. For undergraduate programs, applicants must provide official high school transcripts demonstrating successful completion of a college-preparatory curriculum.
4. The SAT or ACT scores are required for undergraduate admissions. (An SAT score between 1040 and 1280 or an ACT score of 21 and 29.)
It may vary depending on the specific program and level of study (undergraduate, graduate, etc.).
How Much Does Liberty University Cost?
The cost of admission to Liberty University depends on the program of study, the student's residency status, and the chosen mode of learning (on-campus or online).
Liberty University's tuition rates are based on credit hours and degree level.
Undergraduate Tuition–(2023-2024)
The undergraduate tuition & fees are $31,358 which is an increase of 39.3% compared to the previous session.
Other additional expenses including room, board, and transpiration, are $18,678 for the year 2023. The on-campus residential costs increased by 3.61% compared to the previous year.
Graduate Tuition -(2023-2024)
The graduate school tuition & fees are $8,450 which is a 0.5% increase compared to the previous session
Per Credit Hour
The undergraduate tuition fee is approximately $546 per credit hour.
The graduate tuition fee is approximately $475 per credit hour.
Books & Supplies
The average cost of purchasing books and course supplies is approximately $1,309.
Living Costs
The average cost of living cost at Liberty University is approximately $18,678 when living on campus and approximately $17,052 when living off campus. The on-campus living costs are increased by 3.61% compared to the previous year.
Liberty University Bookstore
The Liberty University Bookstore is a hub for students and offers a wide range of resources to support their studies. From textbooks and course materials to Liberty University apparel and accessories, the bookstore provides students with convenient access to all the essentials they need to shop in-store or online, The Liberty University Bookstore provides a seamless shopping experience, ensuring that students have the tools and gear they need to succeed both inside and outside the classroom.
Liberty University Academic Calendar
Liberty University has released the Liberty Education Academic Calendar for the session 2023-24 in the month of April 2023. In this Academic Calendar, all events, holidays, admission forms release dates, cut-off list issue dates, exam dates, result dates, etc. have been provided. Check the list of all events of Liberty University 2023-24 Calendar :
Liberty University's summer term start from May 13 to August 16.
Download the List of Liberty University Online Academic Calendar 2023-2024 pdf
Conclusion
We hope that the given information will be helpful for you. The post has been prepared with the help of Libert University sites. If you have any other queries about Liberty University feel free to reach us so that we can return back to you at the earliest possible.
FAQ
1. What is the rank of Liberty University?
Liberty University's ranking in the 2022-2023 edition of Best Colleges is National Universities, #331-440.
2. Why is Liberty University so popular?
Liberty University is known for its rigorous academic standards, experienced faculty, and innovative teaching methods, which contribute to its reputation for academic excellence. It offers a robust selection of online programs.
3. Is Liberty University easy to get into?
Liberty University's admissions process is moderately selective, with an acceptance rate of approximately 50%. Admitted students at Liberty University have achieved SAT scores ranging from 1040 to 1280 or ACT scores between 21 and 29.
4. What kind of college is Liberty University?
Liberty University is a Christian University in Virginia and Online.
5. What is the male-to-female ratio at Liberty University?
Liberty University has a total enrollment of 94,709 with a gender distribution of 40.87% male (38,704 students) and 59.13% female (56,005 students).