The Gurukul Nilokheri is an educational institution. Since its establishment in 2015. It has attracted attention for its unique teaching methods and commitment to nurturing all-round individuals. The mission of this gurukul serves as the driving force behind its pursuit of excellence. In this article, we will explore the key aspects of Gurukul Nilokhedi, highlighting its vision, curriculum, infrastructure, and impact on the educational scenario.
The Nilokheri Gurukul Details:
| | |
| --- | --- |
| Name | The Gurukul Nilokheri |
| Affiliate ID | 531405 |
| Address | Sidhpur Minor, Nigdu Road, Nilokheri |
| PIN Code | 132117 |
| Office Phone | 7027849858 / 859 |
| School Code | 41378 |
| E-mail | thegurukulnilokheri@gmail.com |
| Website | http://www.gurukulnilokheri.com/ |
| Foundation Year | 2015 |
| Principal/Head of Institution | Mr. Jitender Singh |
| School Status | Senior Secondary |
| Managing Trust/Society/Committee | Gurukul Shiksha Nyas, Gharaunda, Distt Karnal |
The vision of Nilokheri Gurukul is to foster the growth of well-rounded individuals such as critical thinking, problem-solving skills, and empathy.
The school's curriculum is designed to provide a comprehensive education.
It includes academic subjects, arts, sports, and extracurricular activities.
It creates an ideal environment for learning. The institution also provides a comfortable hostel and recreational facilities for the students.
The Nilokheri Gurukul comprises experienced educators who encourage students to excel and embrace lifelong learning.
The school helps in broadening the horizons of the students and preparing them for the globalized world.
The Gurukul Nilokheri Admission Form 2023
It is affiliated with CBSE Board which provides academic as well as ancient education to its students. It conducts a written entrance test to take admission in classes V IX, and XI. In order to be considered for admission to Gurukul Kurukshetra, candidates must satisfy the following eligibility criteria.
Applicants must have completed their studies at a recognized school.
Candidates have to obtain the application form from the official website of Nilokheri Gurukul or visit the admission office.
Applicants must fill in all the required details correctly in the application form.
The complete application form has to be submitted within the stipulated time limit.
After successfully submitting the application form, candidates will receive their admit cards for the entrance test.
Candidates will have to appear for the written entrance test on the scheduled date.
Based on the performance in the entrance test, Gurukul will prepare a merit list.
Candidates will be selected for admission to their respective classes as per their rank in the merit list.
Nilokheri Gurukul Fee Structure
BOARDING FEE STRUCTURE (2023-24)
S.NO.
5th TO 10th
4th QTR: Latest by 5th January
1.
Admission Fee
5000
2.
2nd QTR: Latest by 5th July
43500
3rd QTR: Latest by 5th October
53500
4th QTR: Latest by 5th January
53500
4th QTR: Latest by 5th January
53500
Total Fee (1st qtr+2nd qtr+3rd qtr+4qtr)
204000
Grand Total ( Admission Fee+1st To 4th Qtr)
209000
( A ) Laundry Exp. ( Fixed )
11th to 12th FEE
3.
Admission Fee (one-time for new students)
5000
4.
April
44500
2nd QTR: Latest by 5th July
54500
3rd QTR: Latest by 5th October
54500
4th QTR: Latest by 5th January
54500
Total Fee (1st qtr+2nd qtr+3rd qtr+4qtr)

208000
Grand Total ( Admission Fee+1st To 4th Qtr)
213000
5.
Pocket Money -Rs. 15000
( A ) Laundary Exp. ( Fixed )
5500
( B ) Telephone ( Fixed )
2200
( C ) Other Expense Heads ( Use By Student)
As per actual charges
Uniform: Summer & Winter Approx. / Extra Fruits & Milk / Outdoor Medical / Hair Cutting/
Extra Function Dresses / Extra Biscuits & Namkeen / Bag / Books / Stationery / Sports Shoes
Under Garments /Sports Items /Toiletary / Lower & Shorts /Dry Fruits and etc.
6
Sibling Concession
5000
7
Pay in ONE TIME at the time of Admission (Discount Rs. 8000)
Method To pay Fee
Student fees will be deposited through their website by using admission no. (given on fees slip) 
The Gurukul Nilokheri Ranking in India
It has ranked 1st in the Best Boarding School for Boys in Haryana and ranks 10th in India based on 14 parameters reviewed by Education World India School Rankings for the session 2022-23.
It is one of the Top Ten Prestigious Boarding Schools in India.
The Gurukul Nilokheri Photos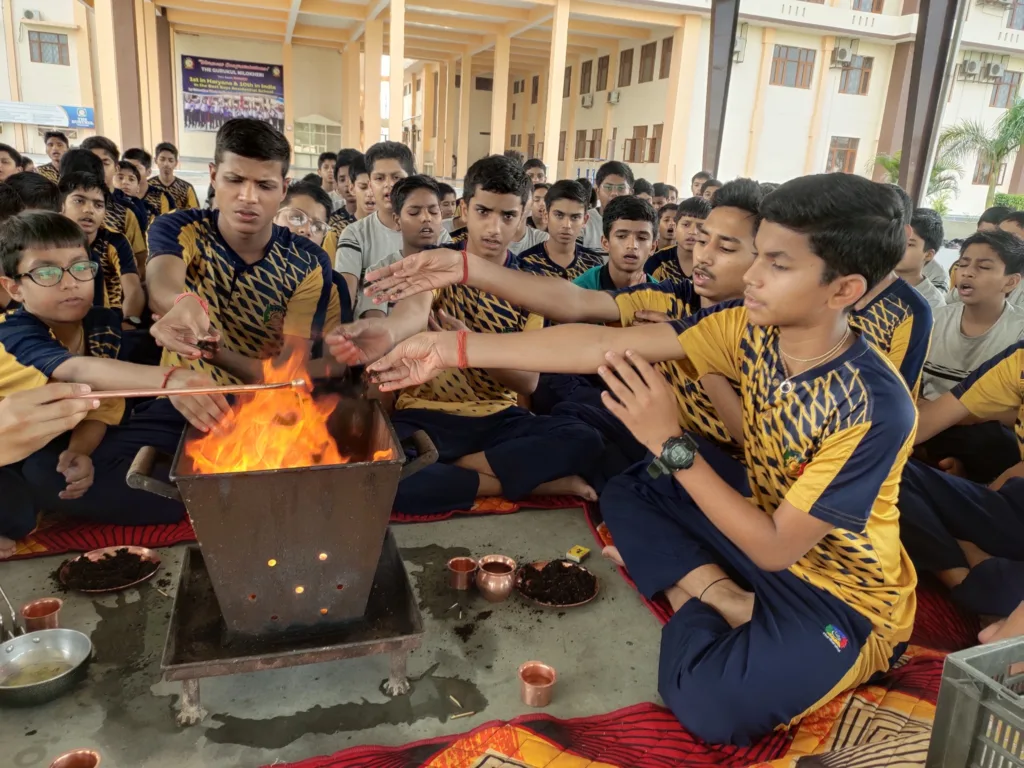 FAQ
1. What is the fee of Gurukul Nilokheri?
5th TO 10th
Admission Fee 5000
2nd QTR: Latest by 5th July 43500
3rd QTR: Latest by 5th October 53500
3rd QTR: Latest by 5th October 53500
4th QTR: Latest by 5th January 53500
Total Fee 204000
Grand Total 209000
___________________________________________________________________________________________
2. Who is the founder of Gurukul Nilokheri?
Acharya Dev Vrat Ji is the founder of Gurukul Nilokheri.
3.How many acres is Gurukul Nilokheri?
The campus of The Gurukul Nilokheri is spread over 19 acres of land.
4. Why is Nilokheri famous?
Nilokheri is famous for its polytechnic institute run by Haryana Government.
5. Which is the first Gurukul in India?
The ancient Takshashila University.
6. What is the rank of Gurukul the school in India?
In the latest EW India School Rankings 2021-22, GTS-G is ranked among the top 3 co-educational day schools in Ghaziabad and the top 25 in Delhi NCR.
7. Who stopped Gurukul in India?
British rule stopped after winning the debate with "Minute on Education(1835)".
8. How can I get admission to Gurukul Kurukshetra?
To apply for admission to Gurukul Nilokheri, you can visit their official website and follow the admission process outlined there. They provide detailed instructions and requirements for prospective students.
9. Is Nilokheri a village?
Nilokheri is a municipal committee and town situated in the Karnal district of the Indian state of Haryana. It is located just 19 km away from Karnal City and is comprised of 13 wards. Situated on National Highway 1, Nilokheri is approximately 143 km away from Delhi.
10. When did Gurukul system end in India?
The Gurukul system of education disappeared in 1835.
People also read: Welcome To Gurukul Kurukshetra 2023
Conclusion
Gurukul Nilokheri, with its holistic approach towards education, state-of-the-art infrastructure, specialized programs, and dedicated faculty, is redefining the educational landscape. By nurturing the holistic development of the students, the institute prepares them to face the challenges of the future and become compassionate leaders.